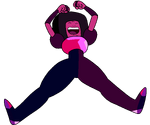 Confirmed Theory
Who Will Be Redeemed In The Movie? is now a confirmed theory! Congratulations to the theory's author, Cnels488!
Summary
This Theory is about who will be redeemed in the movie.
Theory
At LA comic con there was a panel that featured voice actors from Steven Universe. At the panel the actors mentioned that someone in the movie would be getting redeemed.
Who It Could Be
The Villain-So far, this seems like the only likely candidate.
Jasper-Possibly, Jasper's voice actress Kimberly brooks who was at the panel said she is still waiting for Rebecca Sugar to call her in to record lines, but a sketch from the movie surfaced and it depicts Jasper.
The diamonds-While they have already been redeemed in the show, they have been confirmed to appear in the film.
The Rubies-I haven't heard anything about Charlene Yi appearing in the film so this probably isn't likely.
Aquamarine and Topaz-I haven't heard anything about these two appearing in the film so it probably is unlikely.
Emerald-In a recent interview Jinkx Monsoon (Emerald's voice actress) stated that she "Would like to come back to Steven Universe", implying that she won't be returning anytime soon so this is also unlikely.
Confirmation
(Spoilers)
Towards the end of the Steven Universe Movie, Spinel (The villain) is given a second chance and the opportunity to stay with the diamonds, proving the first possibility to be correct.
Community content is available under
CC-BY-SA
unless otherwise noted.